Join the team
Welcome to a team of individuals making a difference together. As Australia's leading mutual banking organisations, we know the importance of putting people first.

When you come to work at Heritage and People's Choice, you'll be joining a team of inclusive, friendly, and motivated employees who value making a difference everyday for our members, community and the planet.

Begin your journey with us today! Search and apply for vacancies now.
Applying for a role with Heritage and People's Choice
Starting your career with us is as simple as applying online through our current vacancies page.
Whether it's your first gig, a change of industry, a step to the side, or a step up, we'll empower you all the way. Make the move now and start your career journey today!
Our recruitment process varies with each role. Generally, when we receive your application, we'll look at the fit of your skills, abilities, and work history against the criteria for the role. If you meet the criteria, we'll be in touch to step you through the selection process, which typically includes the following assessments:
• phone screening
• online assessments
• referee checks
• aptitude and psychological testing
• background checks
• a panel interview
Join our Talent Community and be the first to learn about new career opportunities.
People's Choice Retail opportunities
Heritage Bank Retail opportunities
Heritage and People's Choice corporate opportunities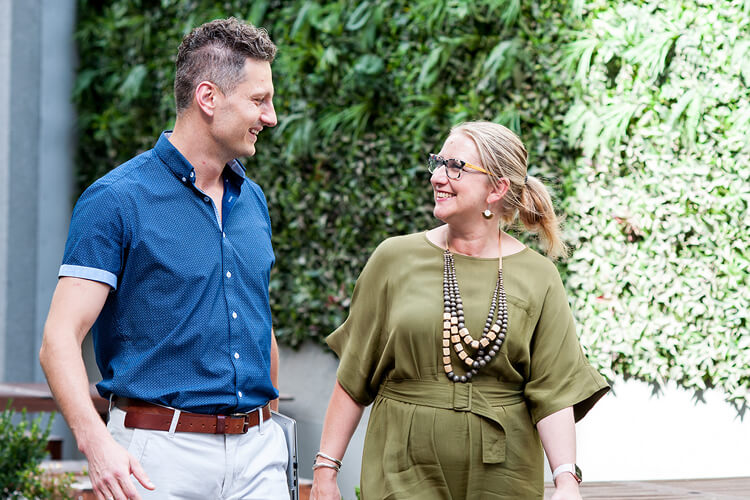 Let us introduce ourselves
At Heritage and People's Choice, we're committed to working with our members and employees for a sustainable future.
Our business

Our vision is to be Australia's most trusted and loved bank.

Our maturity and member mindset are deeply rooted in our history with a combined 220 years supporting members across Australia.

Our people

We're committed to being a workplace where our people can thrive; to speak up and be heard, valued, and inspired to contribute their best. We're a team of individuals making a difference together.

Our values

Our values underpin our culture and lead the way in everything we do.

• Passion

• Respect

• Integrity

• Care

• Trust

• Authenticity

Where we are located

We have dual head offices in Adelaide and Toowomba, and 95 branches across South Australia, Victoria, New South Wales, Queensland and the Northern Territory, trading under two brands, Heritage and People's Choice.

People's Choice is B Corp certified, joining a global movement for a better future.

B Corp certification is an independent, internationally recognised way to measure an organisation's total social and environment impact, with final certification only given to those that achieve strict standards. It's proof that our organisation is doing good, but is also a commitment to continue that work – and do more.

Our members are our owners

Any profit we make is invested right back into the organisation to benefit our members and their communities. We believe building strong communities benefits us all. That's why we've partnered with fantastic organisations and events, chosen with member and employee input, to help make a real difference in the community.
Bring your whole self to work and thrive - Diversity and inclusion
Our vision is for a thriving, fair and safe workplace where everyone belongs, feels safe to contribute and our Diversity & Inclusion Strategy acts as a blueprint for how we will build on a culture that respects inclusiveness and embraces the diverse and unique skills, perspectives and qualities of all our people. Our regular employee engagement survey also provides the mechanism for employees to provide regular feedback contributing to our culture of inclusion.
People's Choice and Heritage have merged to create a new national mutual that offers a compelling alternative to the big banks.
Benefits and opportunities
What are the perks?

We believe the little extras can make a big difference in supporting your success. That's why we offer great incentives and benefits including:

• discounts on our financial products and services

• discounted private health Insurance

• salary sacrifice options

• recognition and reward programs

• social club events

• employee events to celebrate our success

• flexibility when working from home or in the office to dress for your day and choose a more relaxed look

The Good Squad - our employee volunteering program

We're advocates of positive change; for individuals, the community and the environment. That's why we deploy our Good Squad around the country, no matter where our people are located!

Through the Good Squad, our people can access up to 2 working days a year to participate in volunteering activities, and contribute to the communities they're passionate about via our Workplace Giving Program.

Career development

When you grow, so do we. That's why we have a focus on developing our people. There's a range of career development and progression opportunities within our growing organisation and we offer:

• job-related learning programs

• study assistance support

• secondment and project opportunities

Lifestyle and leave

When you are at your best we are to. We know one size doesn't fit all and our people have different ways to work flexibly depending on the role they play. This could include part time roles, working from home, flexibility in working hours, hybrid working and casual roles. We also offer:

• a range of paid and unpaid leave options including parental leave, purchased leave and lifestyle leave

• a dedicated Employee Assistance Program for you and your family to access in times of need

• wellbeing programs, resources and support