Finding yourself stuck with no money while on holidays can be both frustrating and frightening, but there are some essential travel tips to help you safeguard your hard earned dollars while away, People's Choice Spokesperson Stuart Symons says.
1. Notify your financial institutions and credit card providers – by phone, app or internet banking
Before you leave home, notify your financial institutions to avoid having your funds frozen, Mr Symons said.
"This is a crucial step you can't afford to forget before you travel overseas. Financial institutions do whatever they can to protect you from people accessing your money without your permission or stealing your identity so they are suspicious of activity that takes place in unexpected overseas locations.
"Contact your bank by phone, internet banking or by using the app and ensure they know where you are travelling to, including any stopover destinations, and the dates of your travel. This ensures that they not only know that you may be using internet banking and your cards overseas but where to expect, and not to expect, that use to take place.
"It's also worth contacting your bank to ask for any advice on how to best access your money while you're away, and to confirm their contact details and the best way to contact them in case you need to speak with someone in a hurry."
2. Diversify your funding
Thinking about how best to protect yourself in case you lose your wallet, get robbed, or scammed, is the last thing you might want to think about before you head off on holidays but it can mean the difference between being stranded, heading home early, or recovering quickly, Mr Symons said.
"Before you get anywhere near a plane, it's a smart idea to consider your spending options and what choices are best for where you're going.
"Having a mix of cash, credit / debit cards and pre-paid travel cards can add an extra layer of protection if they're not all carried together. This way if your wallet is lost or stolen you have back up funds in your travel pouch, or if your credit card gets hacked then you have some cash to fall back on while you work through the situation with your financial institution or travel insurer.
"It's also a good idea to take your Australian cards as a safety net. The conversion and withdrawal fees may be higher but that's much better than not having a backup."
3. Know money culture or rules around money for where you're travelling to
It is never a good idea to assume that how you transact at home will be the same as where you're travelling to, Mr Symons said.
"When travelling internationally, don't make assumptions. You may find some towns do not accept cards or digital payments which means you will need to have enough cash in that currency to see you through your stay.
"You might travel to a country within the European Union that has kept its own currency and does not widely accept the Euro. A little bit of research before you leave can go a long way to taking the stress out of your trip."
4. Don't wait until the last minute to get cash for your trip
Organising your cash and cards should not be left until the last minute, Mr Symons said.
"Not all foreign currency is readily available so enquire early so you can get the money you need before you go. Having cash on hand when you arrive will help you pay for food when sampling local cuisines, taking taxis or public transport and paying for tips.
"Organising currency before you leave can be especially important if you are travelling to less well-travelled destinations as not all currencies are available for purchase in Australia. Countries along the West Coast of Africa, for example, use the CFA Franc but Australian institutions can't provide this currency and travellers may need to consider purchasing US dollars to make it easier to exchange currency on arrival."
5. Using cards overseas
You have a number of options when using cards overseas. But no matter whether you opt for a low interest rate credit card, a travel card that offers no exchange fees, a prepaid card which will let you load multiple currencies or you use your everyday debit Visa card, they will be no use to you if they expire while you are away, Mr Symons said.
"It is easy to be tripped up by the most minor detail as you plan your escape to your dream location so don't forget to confirm your card limits and check your card expiry dates before you leave," he said. "If your card is due to expire while you are overseas or not long after you return, give your financial institution a call and order a new card in plenty of time before your departure and make sure you register it before you leave.
"While applying for a new credit card with all the bells and whistles is tempting, it could be worth staying with your existing credit cards despite higher exchange rates, especially if you have made accommodation bookings on this card as the hotel may need that same card when checking in. If you use a debit card, that's your cash on hold; if it's a credit card, it's not going to cramp your style as much and means you still have access to your own money on your other cards.
"Using cards while travelling can lead to the temptation to spend. If you have a budget you want to stick to so you aren't left with travel debt and regret on your return, consider putting a daily spending limit on your accounts where possible."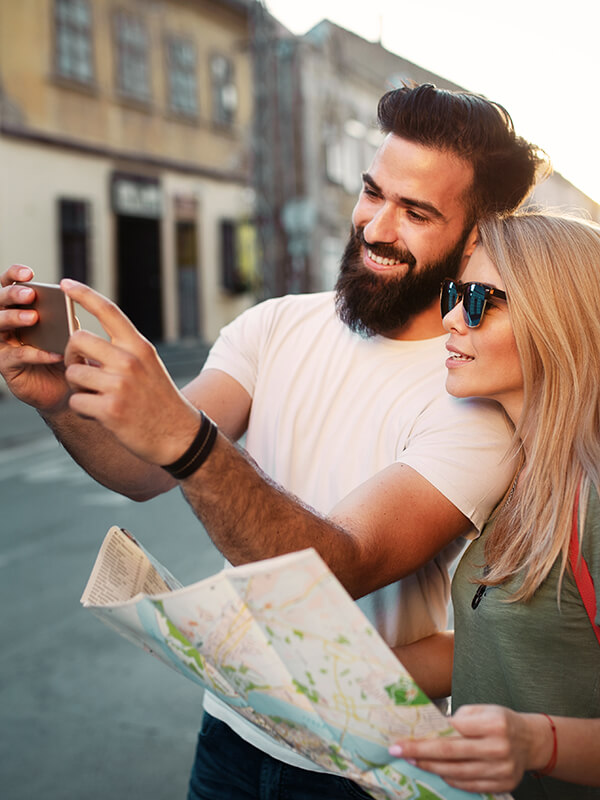 6. Exchange Rates – calculate for peace of mind
Probably one of the hardest areas to grasp when you are travelling is how much you're spending because of exchange rates, fees and other charges, Mr Symons said.
"If you use an Australian credit card or your Visa debit card you may pay a higher conversion rate and using ATMs overseas can be expensive.
"Even if you're using cash, pre-paid travel cards with a locked in exchange rate or a travel credit card you can get caught paying more than you think especially if you're travelling widely and changing currencies regularly. Downloading an app that lets you see currency conversions or using a calculator so you have an idea of what you're about to pay in the currency you're used to can provide peace of mind and help you see if there are incorrect or unusual charges on you account."
7. Prepare for the unexpected
Without travel insurance, all other money travel tips can become irrelevant. If the unexpected were to happen, good insurance may be the only thing that can save you, your holiday and your budget, Mr Symons said.
"Health systems vary from country to country. Falling over, eating some bad food or being involved in a car accident can quickly turn into huge medical bills without the right travel insurance.
"Most travel insurance policies will include essential cover for lost travel documents and cash, lost or stolen luggage, unforeseen medical bills and cancellations. Also check whether the policy offers emergency assistance while you're away – not all do.
"And don't forget to check you have the right insurance for your home and contents and car so that you are covered for those unforeseen events that can take place at home while you're away."
8. Don't forget to pay your bills while you are away
Coming home to no electricity or a nasty letter from the utility company is not the way you want to end a holiday, Mr Symons said.
"Use internet banking and set up automatic bill payments to take the stress out of trying to do this while away.
"If you need to pay a bill while travelling or need to access your financial information on your phone, tablet or computer, avoid using free public Wi-Fi networks as your sensitive data is at risk of being hacked.
"Instead, when travelling abroad, invest in a good overseas SIM card with data that will let you securely access your accounts or transfer money safely. And, whether travelling overseas, locally or nationally consider purchasing VPN software for your device for added internet security.
"Free public Wi-Fi might be a cost-effective way for finding directions, checking your social media account or chatting to friends over the internet but if you plan to access your financial accounts when travelling then you need to plan ahead to make sure only you see your sensitive data."
"Before you get anywhere near a plane, it's a smart idea to consider your spending options and what choices are best for where you're going."